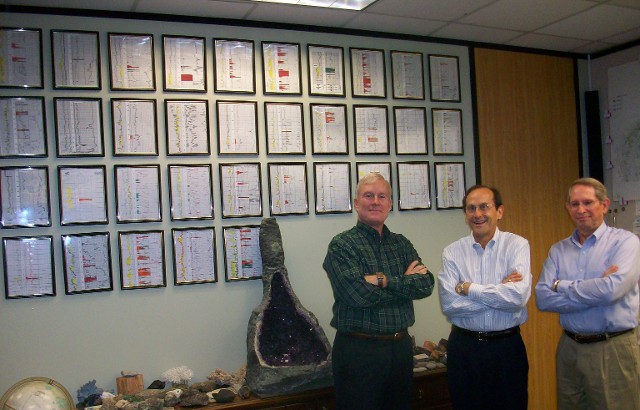 We are a proven oil and natural gas finding team with expert Geological, Geophysical, and Reservoir Engineering experience, specializing in the Federal Offshore waters of the Gulf of Mexico, USA.
Our wells have an 82% completion success rate with a total Estimated Ultimate Recovery of over 20 Milliion Barrels of Oil and 200 Billion Cubic Feet of Natural Gas.
We contract with all major data providers to access lease histories, electric well logs, sidewall core reports, digital and hardcopy 2- and 3-dimensional seismic data, and production data.
We use leading industry-standard software such as IHS Kingdom Suite for seismic interpretation, seismic attribute analyses, and synthetic seismograms, plus ESRI ArcView for geographic information management.
We employ a proprietary Focus Area Strategy to high grade leads, prioritize prospecting efforts, increase generation productivity, and lower costs.
We provide complete, on-site prospect presentations with robust review documentation including appropriate technical data, volumetric calculations, and full-cost economic models.
We work with Partners on a success-based formula that ensures mutually-shared risks and rewards.
If you want low-risk, high-potential opportunities to build up your Drilling Inventory please contact us to review our Portfolio of ready-to-view Prospects.

"...Oil is first found in the minds of men."-Wallace E. Pratt - first Geologist for the Humble Oil and Refining Company.

"Drill Here." -Thomas A. Englehart - Founder, Geophysicist, and President of Englehart Energy, Inc.